Titanic - the Musical 2012
Titanic was also presented in 2005
---
General Information Titanic - the Musical 2012

Dates
Tuesday 5th June 2012 - Saturday 9th June 2012
Evenings at 7.30pm, Saturday matinee at 2.30pm

Venue
Director

Sharon Henderson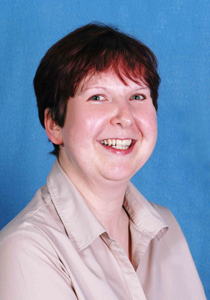 <![if !supportEmptyParas]> <![endif]>
Musical Director

Robert Bowness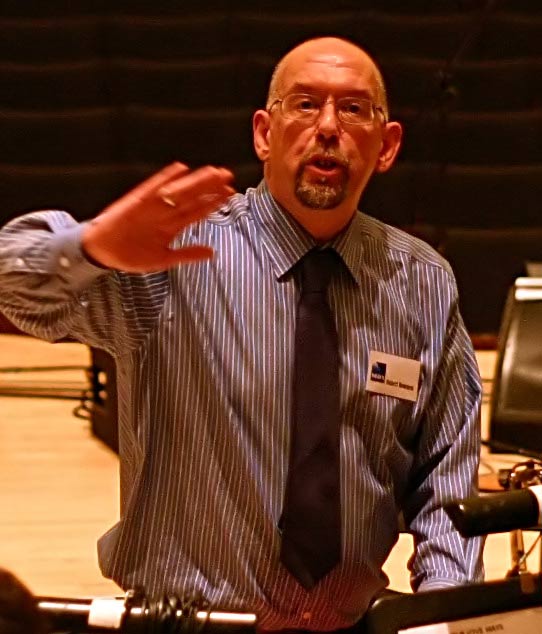 <![if !supportEmptyParas]> <![endif]>
Choreographer


Deborah Clark <![if !supportEmptyParas]>
<![endif]> Examiner FBBO. Deviser of the British Ballet Organisation
Tap Syllabus. Teacher: Ballet, Tap, Jazz, Modern. <![if !supportEmptyParas]> <![endif]>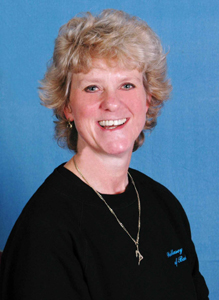 <![if !supportEmptyParas]> <![endif]>
<![if !supportEmptyParas]> <![endif]>

2012 marked the 100th anniversary of the sinking of the Titanic.

Cast Members Titanic - the Musical 2012

Click to enlarge
<![if !supportLineBreakNewLine]>
The Crew of the Titanic

Passengers on the Titanic

Production Team Titanic - the Musical 2012
Stage Manager
Dave Molley
Deputy Stage Manager ( book )
Tom Kaye
Assistant Stage Manager
Richie Lee
Front of House Manager
Bob Jarvis
Set design & construction
Scenic Projects, Suffolk
(Based on the concept by Sharon Henderson)
Costume Design & Wardrobe
Jean Taylor
Sound Design
Dave McKenzie
Sound Team
Dave McKenzie, Mike Haxby, Jack Oxton
Sound Equipment provided by
SSE Audio Group
Radio Microphone Dressers
Kerry Willers & team
Lighting Design
Chris Jones
Lighting Team
Chris Jones, Rick Armitage, Andy Simmonds
Lighting equipment supplied by
Light The Way
Projections
Adlib Solutions
AV Technician
Alan Yates
Images edited by
Ken Rotchell
All Ladies Costumes made by
Students from Liverpool Community College of Art, under the direction of Jane King
Ladies hats designed & made by
Jean Taylor
Props Mistress
Mary Newton
Props Team
Ann Birks, Chris Jones, Sarah Clarke,
Helen Davies, Charlotte Jones, Kirsty Stubbert,
Laura Prescott, Annette Evans, Natalie Reynolds,
Daniella Johnstone, Sam Cheadle,Steph Truman
Stage Crew
Richie Clarke, Jack Condell, Matt Jones,
Joshua Pask, Oliver Hambly, Geoff Simmons,
Kate Jones, Rhys Chamberlain, Matt Proctor,
Chris Foster, Dave Bilotho, Daniel Ellis,
Stuart McCulley, Mark Pennington
Part of the Stage Crew

Orchestra Titanic - the Musical 2012
| | |
| --- | --- |
| 1st violins | Celia Hebbron, Daniel Axworthy |
| 2nd violins | Rose Simms. Joy Hunter |
| Viola | Gisela Behrend |
| Cello | Geoof Murdin |
| Bass | Nigel Richardson |
| Flute / Piccolo | Emily Virdee |
| Oboe | Hilary Duncombe |
| Clarinet | Janet Crossley |
| Flute / Clarinet | Paul Leonard |
| Bassoon | Linton Stephens |
| Trumpet 1 | Julie Baker |
| Trumpet 2 | Owen Bryce |
| Horn 1 | Rob Watson |
| Horn 2 | Bruce Hebblewhite |
| Trombone | Tim Lenehan |
| Bass trombone | John Davies |
| Keyboard 1 | Jonathan Clayton |
| Keyboard 2 | Imogen Hayward |
| Percussion | Tessa Taylor ( Tues, Wed, Thurs ) |
| | James Higham ( Fri, Sat ) |
| Drums | Tony Jennings |
| Rehearsal pianists | Jonathan Clayton Imogen Hayward Pat Stoddart |

Programme Titanic - the Musical 2012
Click to enlarge each page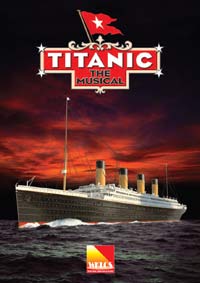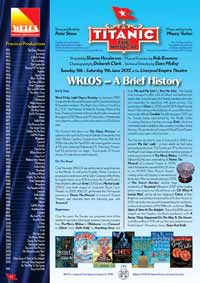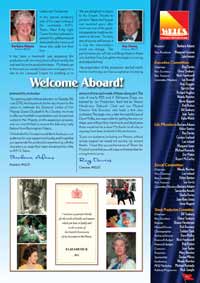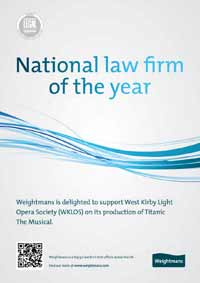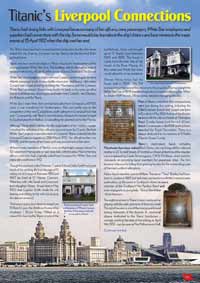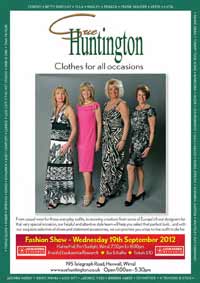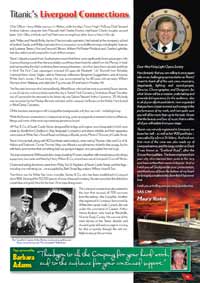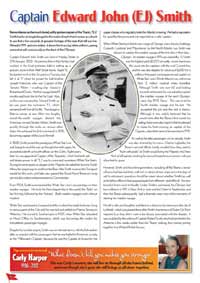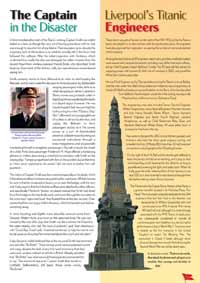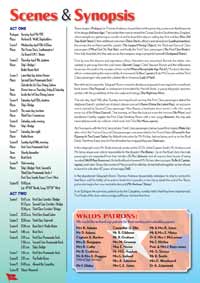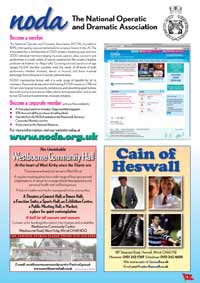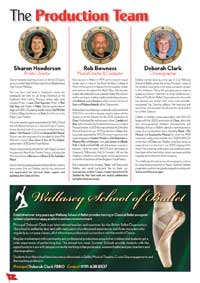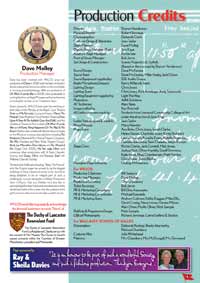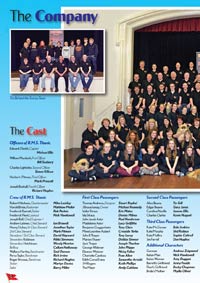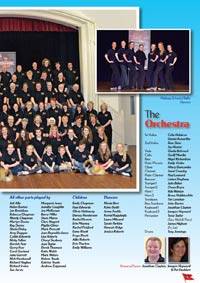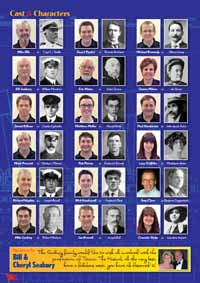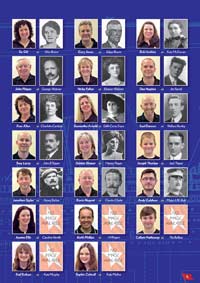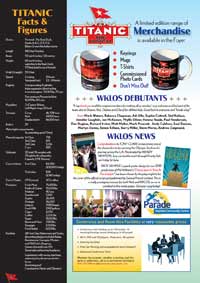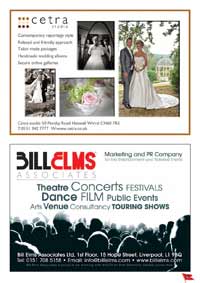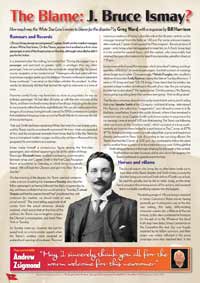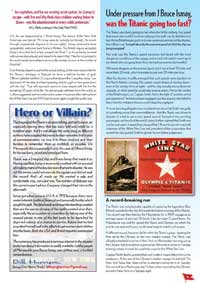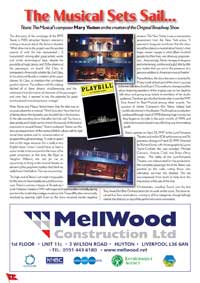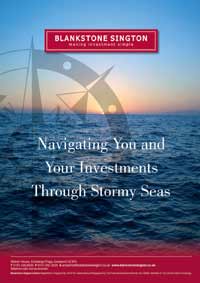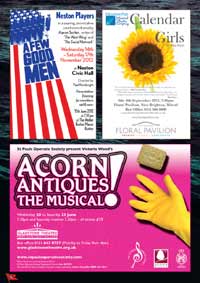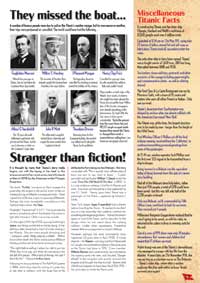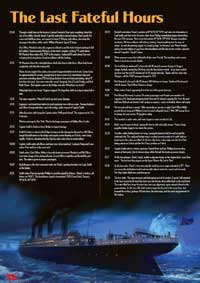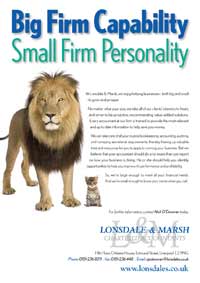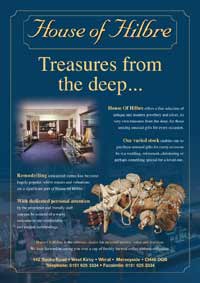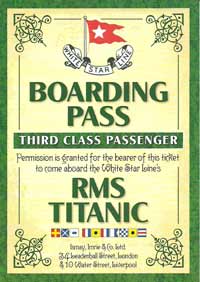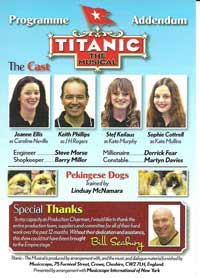 Photographs Titanic - the Musical 2012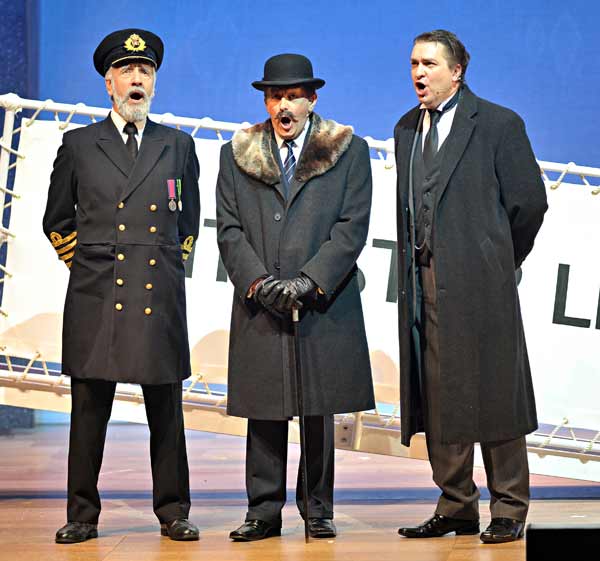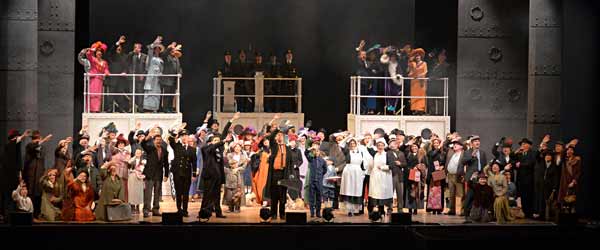 click to enlarge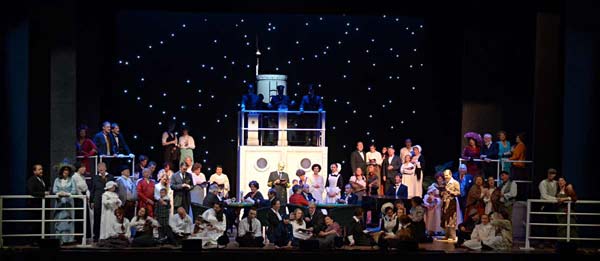 click to enlarge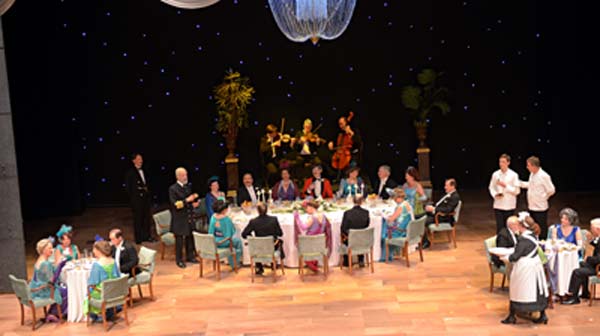 click to enlarge

First Act
The 3rd and 2nd Class passengers arrive
The First Class Passengers arrive
Second Act
'Wake Up, Wake Up' - the corridor scenes
'Dressed in your Pyjamas in the Grand Salon'
On the way to the lifeboats and 'The Blame'
After the last Lifeboat has gone
Survivors on board the Carpathia
The Finale - 'Sail On Titanic'
Backstage at 'Titanic - the Musical'
The Band Call for 'Titanic - the Musical'

Press Coverage Titanic - the Musical 2012


click to enlarge
Empire Theatre window displays
Costumes and display at St George's Hall
NODA Review and on-line reviews
A free 'show-taster' at the Albert Dock

Check out our promotional video on Youtube
Also check out 'Sail On Titanic' at our band call
And the opening of the musical - in concert in 2006

A large number of events took place in 2012 to commemorate the
100th anniversary of the sinking of the 'Titanic'.
Click here for a link to the Titanic Heritage Trust calendar of events for 2012
Click here 'Captain Smith A Titanic Family Man'
Also check out the Titanic stories website.

Officials Titanic - the Musical 2012
| | |
| --- | --- |
| President | Barbara Adams |
| Vice President | Margaret Groome |
| Vice President | Colin Iveson |
| | |
| Executive Committee | |
| Chairman | Ray Davies |
| Hon Secretary | Cheryl Seabury |
| Hon Treasurer | Nick Hawkswell |
| Committee Members | |
| Ian Browell | Kevin Nugent |
| Amy Duggan | Rob Poston |
| Derrick Fear | Bill Seabury |
| Richard Hughes | Jean Taylor |
| Wendy Newton | Katie Walsh |
| | |
| Life Members | |
| Barbara Adams | Margaret Jones |
| Helen Banton | Michael Kennedy |
| Ray Davies | Eric Mates |
| Carolyn Garland | Rupert McCarthy |
| Lee Ireland | |
| | |
| Social Committee | |
| Chairman | Wendy Newton |
| Vice-Chairman | Lee Ireland |
| Hon Secretary | Helen Banton |
| Hon Trerasurer | Sue Jarvis |
| Committee members | |
| Barbara Adams | Joan Rees Jones |
| Samantha Arnold | Irene Nugent |
| Sheila Davies | |
| | |
| Titanic Production Committee | |
| Chairman | Bill Seabury |
| Hon Secretary | Cheryl Seabury |
| Director | Sharon Henderson |
| Musical Director | Rob Bowness |
| Choreographer | Debbie Clark |
| Technical Director | Dave Molley |
| Finances and Budget | Nick Hawkswell |
| Finances and Budget | Rob Poston |
| Costumes | Jean Taylor |
| Properties | Mary Newton |
| Sponsorship | Denise Milnes |
| PR and Marketing | Michael Kennedy |
| Publicity / Programme | Nick Sample |