A Funny Thing Happened on
the Way to the Forum 2010
<![if !supportEmptyParas]>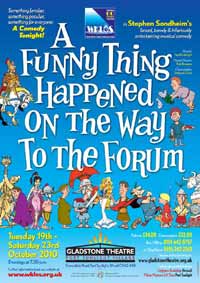 <![endif]>
<![if !supportLineBreakNewLine]>
---
General Information
Forum 2010
Dates
Tuesday 19th October 2010 - Saturday 23rd October 2010
Evenings at 7.30pm
<![if !supportEmptyParas]> <![endif]>
<![if !supportEmptyParas]> <![endif]>
Director

Paul Kirkbright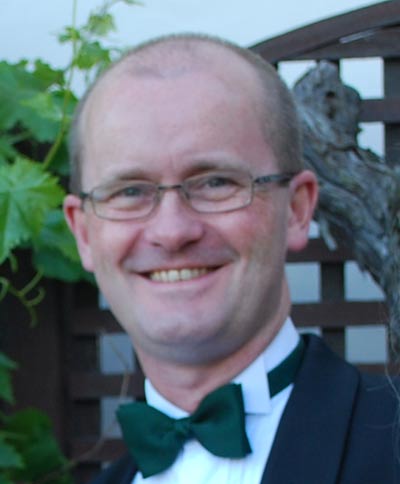 <![if !supportEmptyParas]> <![endif]>
Musical Director

Robert Bowness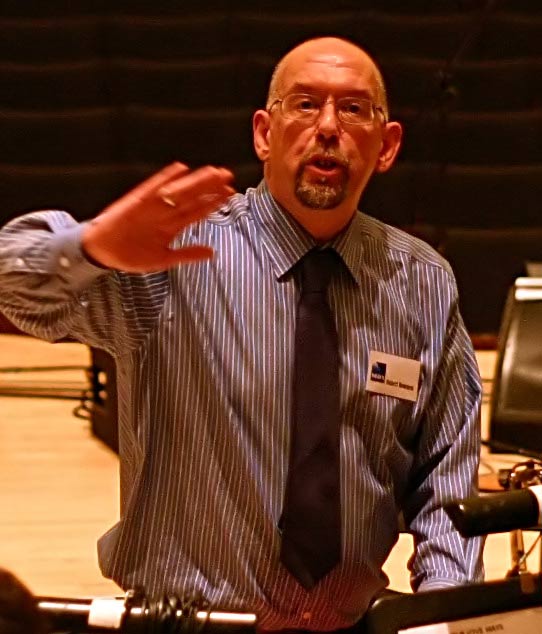 <![if !supportEmptyParas]> <![endif]>
Choreographer

Deborah Clark<![if !supportEmptyParas]>
<![endif]>Examiner FBBO. Deviser of the British Ballet Organisation
Tap Syllabus. Teacher: Ballet, Tap, Jazz, Modern. <![if !supportEmptyParas]> <![endif]>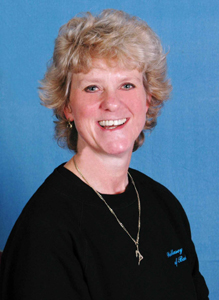 <![if !supportEmptyParas]> <![endif]>
Accompanist

David Steedman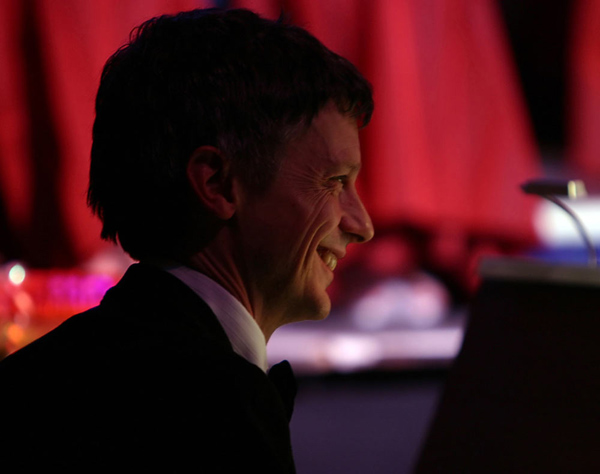 <![if !supportEmptyParas]> <![endif]>
| | |
| --- | --- |
| Music and Lyrics | Stephen Sondheim |
---
Full Company - click to enlarge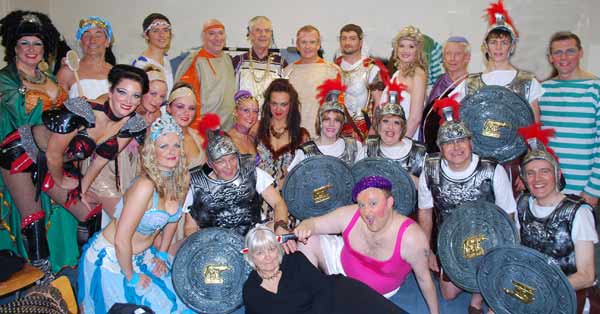 <![if !supportEmptyParas]> <![endif]>
Miles and his soldiers - click to enlarge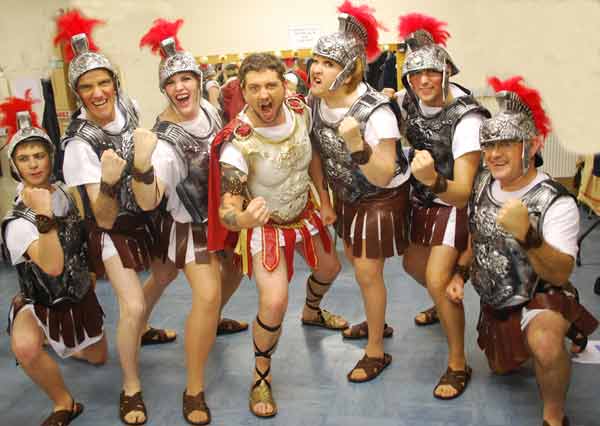 Marcus Lycus and his courtesans - click to enlarge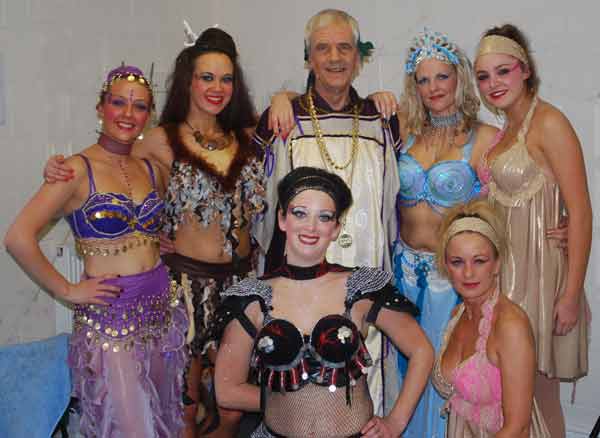 Miles Gloriosus and first half finale - click to enlarge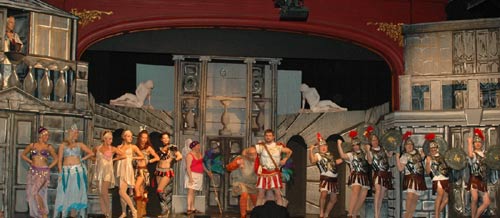 Finale 'Comedy Tonight' - click to enlarge


---
Production
Team
Forum 2010
Stage Manager

Dave Molley

Assistant Stage Manager

Richie Lee

Set Design & Construction

Ken Rotchell
Richie Clarke

Scenic artist

Claire Buckley

Sound Design & Operation

Mike Haxby

L

ighting Design & Operation

John Harrop
Props

Design & Operation

Dave Hayward

Rehearsal Pianists

David Steedman
Imogen Hayward

Properties

Wardrobe

Ian Stead-Theatrical Costumier

Deborah Rodney, Patricia Chambers
Pam Townsend, Sheila Abernethy

Makeup

Stage Crew

Chris Newton, Oliver Hambly
Dave Otter, Richie Clarke

Microphone Dressers

Kerry Willers

For WKLOS

Production Chairman

Ray Davies

Production Secretary

Cheryl Seabury

Marketing Manager

Michael Kennedy
Ticket Secretary
Bob Jarvis

Programme Editor

Nick Hawkswell

Programme & poster design

Nick Sample

Front of House Manager

Bob Jarvis
<![if !supportEmptyParas]> <![endif]>The <![if !supportEmptyParas]> Orchestra<![endif]>
Clarinet/Alto Sax/Flute

Nikki Molley

Clarinet/Alto Sax

Sarah Williams

Clarinet/Tenor Sax

David Silvera
Clarinet/Baritone Sax/
Bass Clarinet
Gordon Macey
Trumpets
Julie Baker, Owen Bryce
Trombones
John Davies, Tim Lenehan
Keyboards
David Steedman
Keyboards/Percussion
Imogen Hayward
Drums
Tony Jennings
---
click to enlarge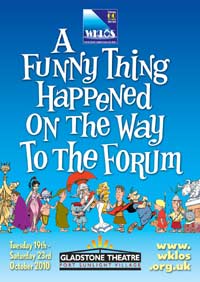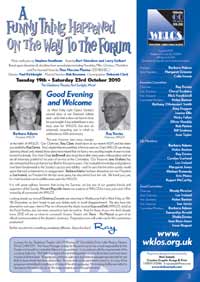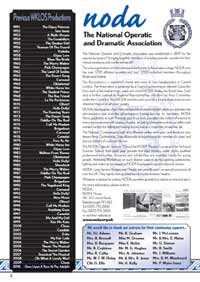 <![if !supportEmptyParas]>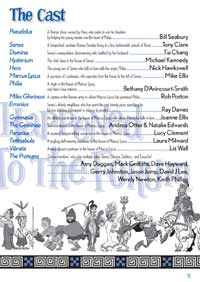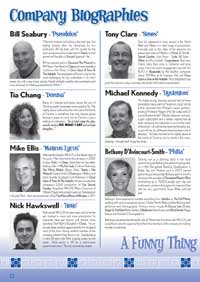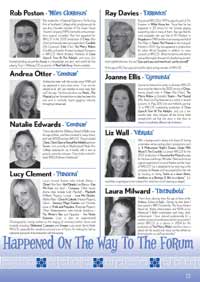 <![endif]>
<![if !supportEmptyParas]>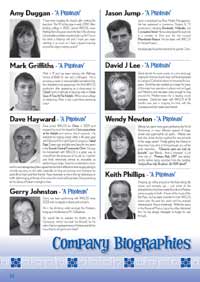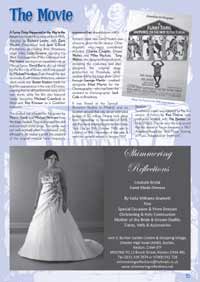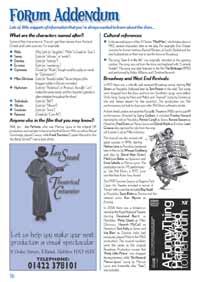 <![endif]>
<![if !supportEmptyParas]>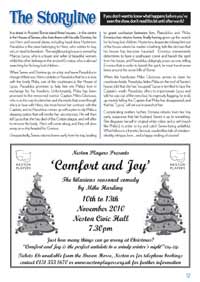 <![endif]><![if !supportEmptyParas]>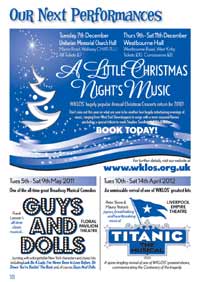 <![endif]>
---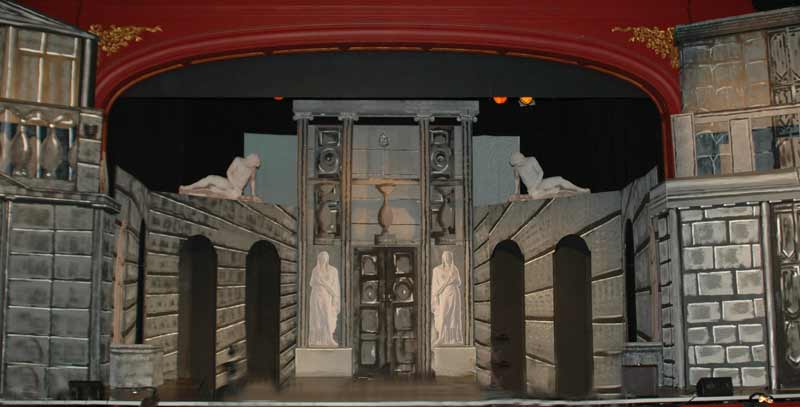 The set
First Act
'Comedy Tonight' - The Proteans
Domina and Senex leave for the country
'Free', Hero and Philia, 'You're Lovely'

Senex returns from the country
'Everybody ought to have a Maid'
'Bring me my Bride' and 1st half finale


Second Act
Hysterium 'You're Lovely'

The 'Funeral' of Hysterium

---
Press Coverage
Forum 2010
Letter from June Lancelyn-Green ( President of Gladstone Theatre Trust )
click to enlarge
NODA Review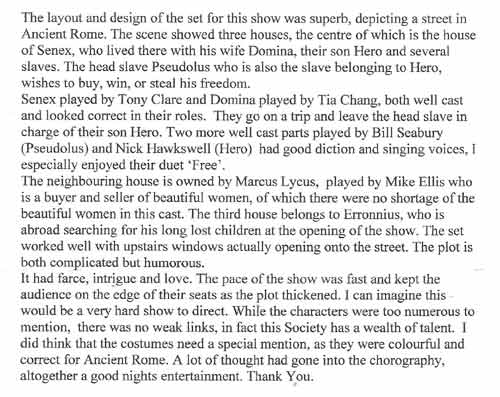 A FUNNY THING HAPPENED ON THE WAY TO THE FORUM - Press release

Following the roaring success of its May production, 'Once Upon A Time At The Adelphi',
WKLOS continues its diamond jubilee season with a production of 'A Funny Thing Happened
On The Way To The Forum'. What better way to brighten up a cold, dark, autumnal evening
than to visit the Gladstone Theatre, Port Sunlight Village to see Stephen Sondheim's broad,
bawdy and hilariously entertaining musical comedy. This fun-filled vaudevillian romp through
Ancient Rome is one of the funniest musicals ever written. Mistaken identities, frantic chases,
lascivious husbands, men in dresses, long-lost children, mixed-up potions and more guarantee
that you will be laughing all the way home! Add to the comedy, the witty lyrics and toe-tapping
tunes of Broadway's legendary composer, Stephen Sondheim, in this his 80th year, and you
have the perfect escape from all our modern day troubles!

The show is being staged at the Gladstone Theatre, Port Sunlight Village from
Tuesday 19th to Saturday 23rd October 2010 nightly at 7.30 p.m. Tickets, 14pounds full & 12pounds
concessions, are available from the Theatre Box Office on 0151 643 8757, WKLOS' Ticket Secretary
on 0151 342 2143 or online at www.gladstonetheatre.org.uk .

The show is being directed by Paul Kirkbright, musically directed by Rob Bowness
(recipient of NODA Best Musical Director Award 2010) and choreographed by Deborah Clark
(Principal of the Wallasey School of Ballet).

Don't be disappointed, book your tickets now for a show that has 'something familiar,
something peculiar, something for everyone' and is, unquestionably, 'a comedy tonight'!

For further details go to www.wklos.org.uk .