Rodgers and Hammerstein 2008
( An Evening with )
---
General Information An Evening with Rodgers & Hammerstein 2008

Dates
Wednesday 7th May - Saturday 10th May
Evenings at 7.30pm

Venue
Gladstone Theatre, Port Sunlight, Wirral

Musical Director

Robert Bowness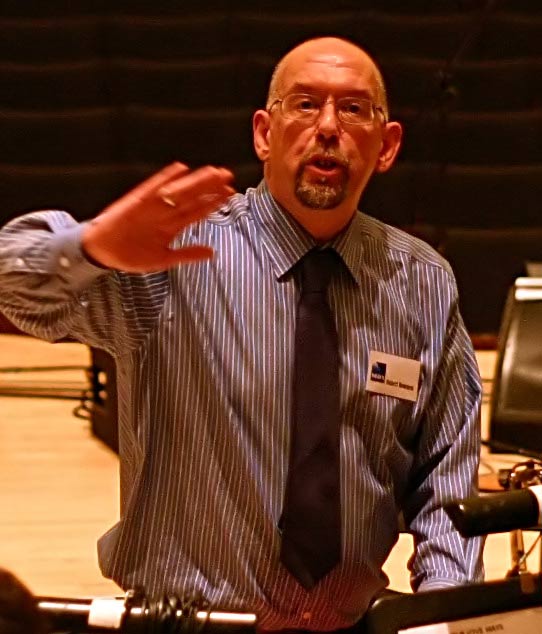 Introductions by

Pauline Daniels - Wednesday


Simon Smithies - Thursday & Friday


Mike Ellis - Saturday

---
The Company
An Evening with Rodgers & Hammerstein 2008
The Full Company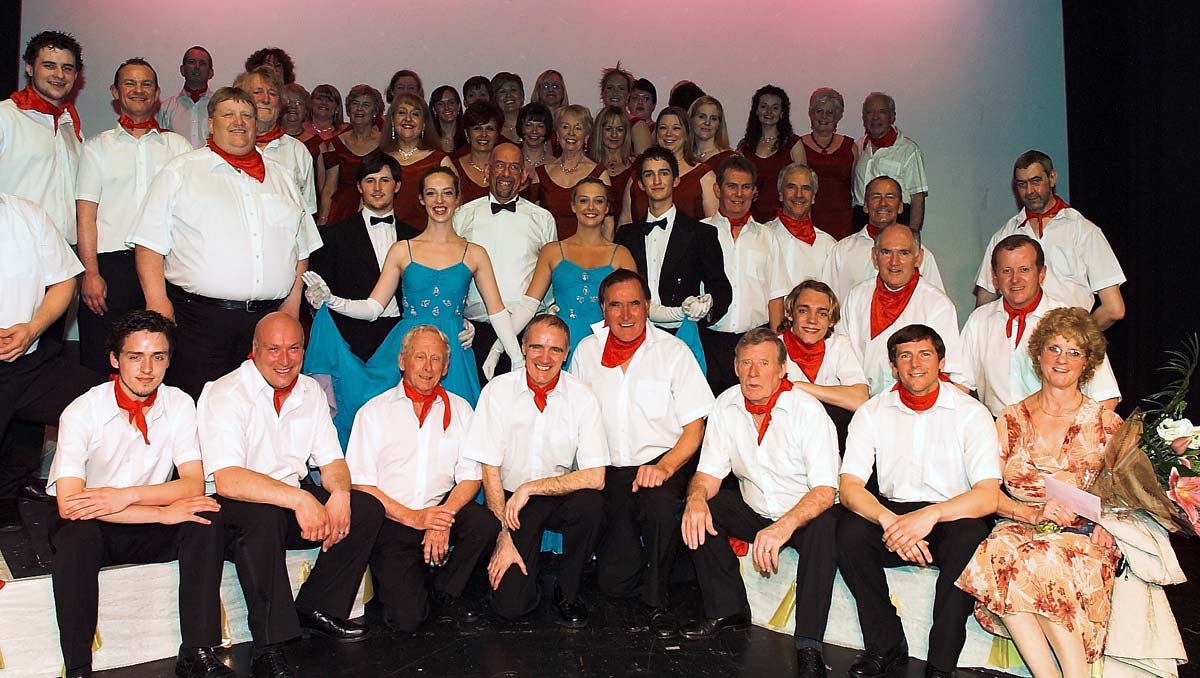 ---
Poster / Programme / Press An Evening with Rodgers & Hammerstein 2008
Poster Click to see enlarged version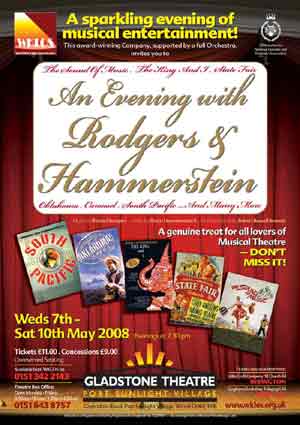 Programme Click to see enlarged version
Press coverage Click to see enlarged version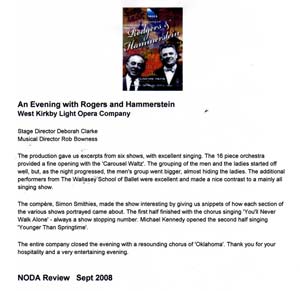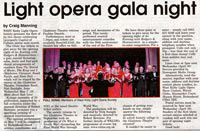 ---
Posted May 11 2008

I just wanted to say thank you to the West Kirby Light Operatic Society for putting a footballing smile on my face for the first time since 30th April.

WKLOS were putting on an Evening with Rodgers and Hammerstein at the Gladstone theatre in Port Sunlight last night. Rodgers and Hammerstein for those who didn't know wrote Carousel. And with apologies to those who know already that that musical contained YNWA many years before Gerry and the Pacemakers aided its assimilation into Kop lore.

I was chatting to Mrs Mav on the way there and bet her ten quid that WKLOS would not do YNWA as it was likely to divide an audience but at the interval I was ten quid poorer as they did an ace rendition of it which made the hairs on the back of my neck stand up - but still no smile.

No that came at the curtain call when they decided to do another number. And the compere announced it would be a repeat performance of YNWA. There was quite a bit of huffing and puffing around me (which in fairness had been absent when it had been performed earlier in the evening) - but the smile was provided for me from the guy at the end of the row who turned to his wife and said "Oh for God's sake no. I can't listen to this again. I'm going" And stormed off in a huff.

And that's when I smiled. That's when I remembered what a special club we are. That no matter how crap it is at the moment wondering whether it is ***FC or ****FC that win the two biggest trophies at the end of the year we will always be a special club. And we will always have class.

I keenly look forward to WKLOS next Evening with event. Presumably they will be practising their sharps and flats to give us a great rendition of that world renowned classic - Z Cars. I'd like to think I'd have enough good grace to stay in my seat during what is after all only an amateur musical performance designed to entertain.
---
Photographs An Evening with Rodgers & Hammerstein 2008