The Pirates of Penzance 2019
<![if !supportEmptyParas]>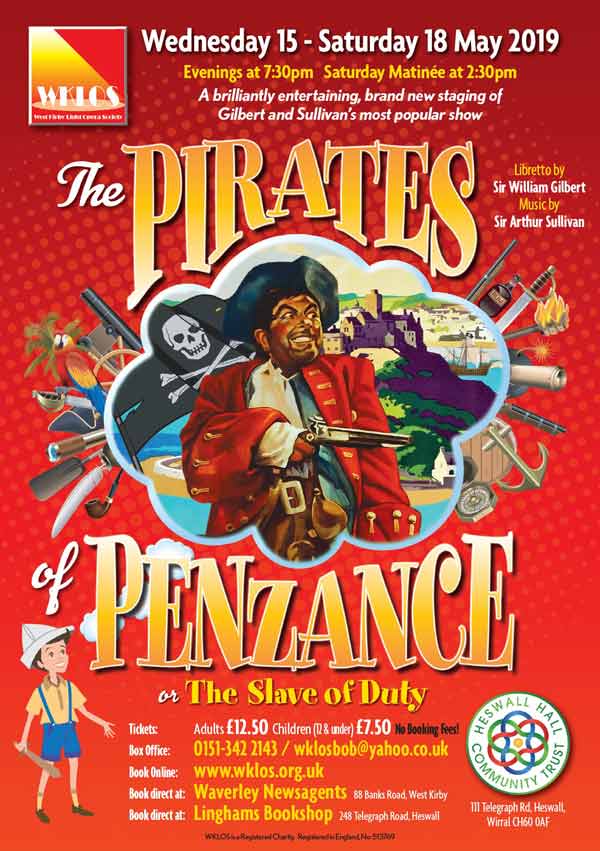 <![endif]>
<![if !supportLineBreakNewLine]>
---
General Information
Pirates 2019
Dates
Wednesday 15th May 2019 - Saturday 18th May 2019
Evenings at 7.30pm
Matinee at 2.30pm

Venue

Heswall Hall
<![if !supportEmptyParas]> <![endif]>
<![if !supportEmptyParas]> <![endif]> Director and <![endif]> Musical Director

Robert Bowness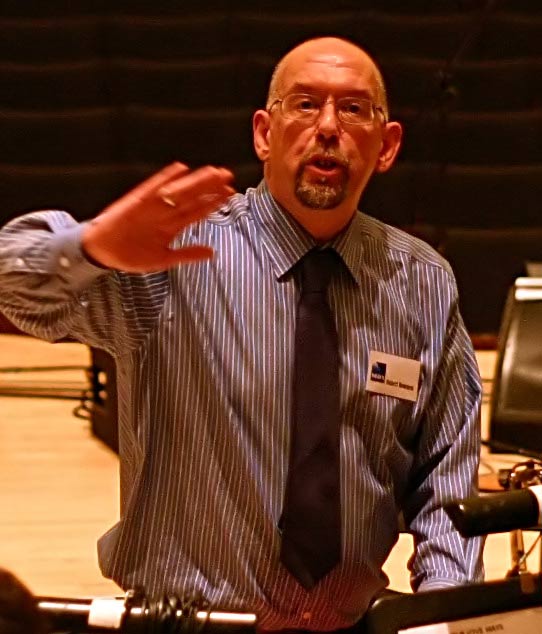 <![if !supportEmptyParas]> <![endif]>
Choreographer

Deborah Clark<![if !supportEmptyParas]> <![endif]>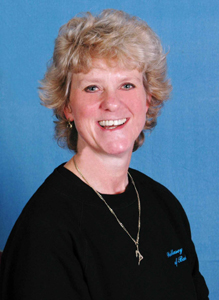 <![if !supportEmptyParas]> <![endif]>
Accompanist

Martin Dack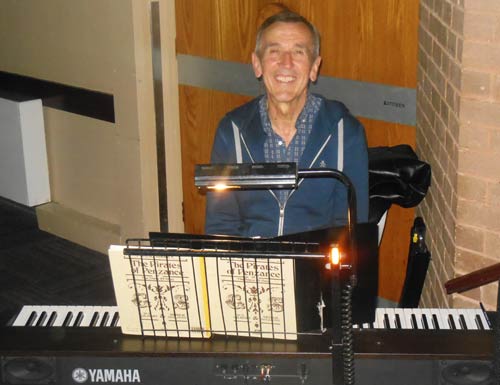 <![endif]>
| | |
| --- | --- |
| Music | Arthur S Sullivan |
| Lyrics | William S Gilbert |
---
<![if !supportEmptyParas]> <![endif]>
*** Sadly Lin was unwell and unable to do the show.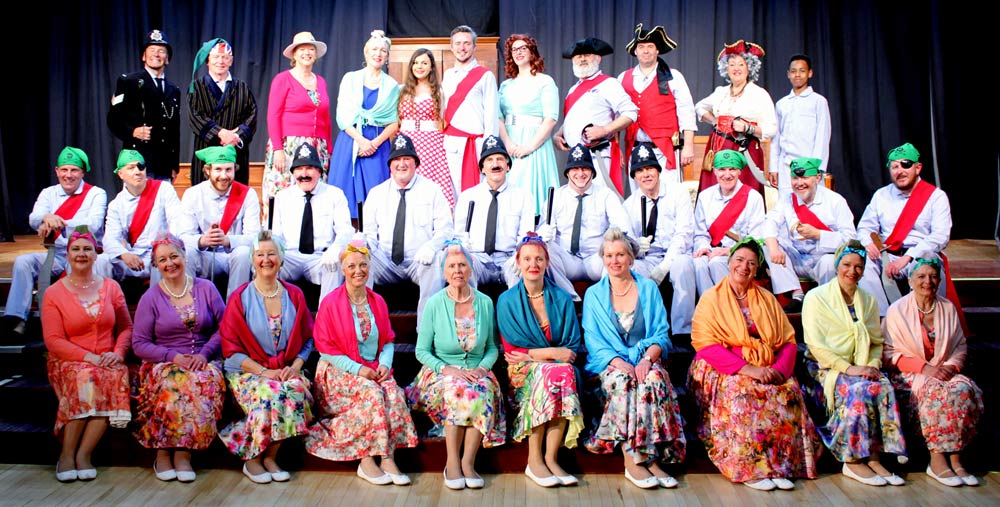 The cast of Pirates - click to enlarge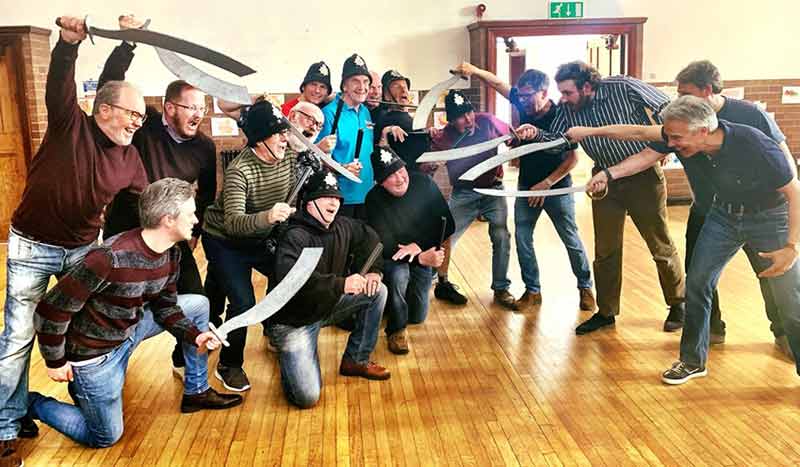 ---
Production
Team
Pirates 2019
Stage Manager

Dave Molley

Assistant Stage Manager

Richie Lee

Set Construction

Steve Meadows
Dave Molley

Properties

Jean Taylor

Wardrobe

Jean Taylor

L

ighting Design & Operation

Clinton Ball

Sound

Dave Molley

Rehearsal Pianists

Victoria Wells
Imogen Hayward

For WKLOS

Marketing Manager

Michael Kennedy

Publicity and Programme Design

Nick Sample

Front of House Manager

Bob Jarvis



<![if !supportEmptyParas]> <![endif]><![if !supportEmptyParas]> Programme Pirates 2019
---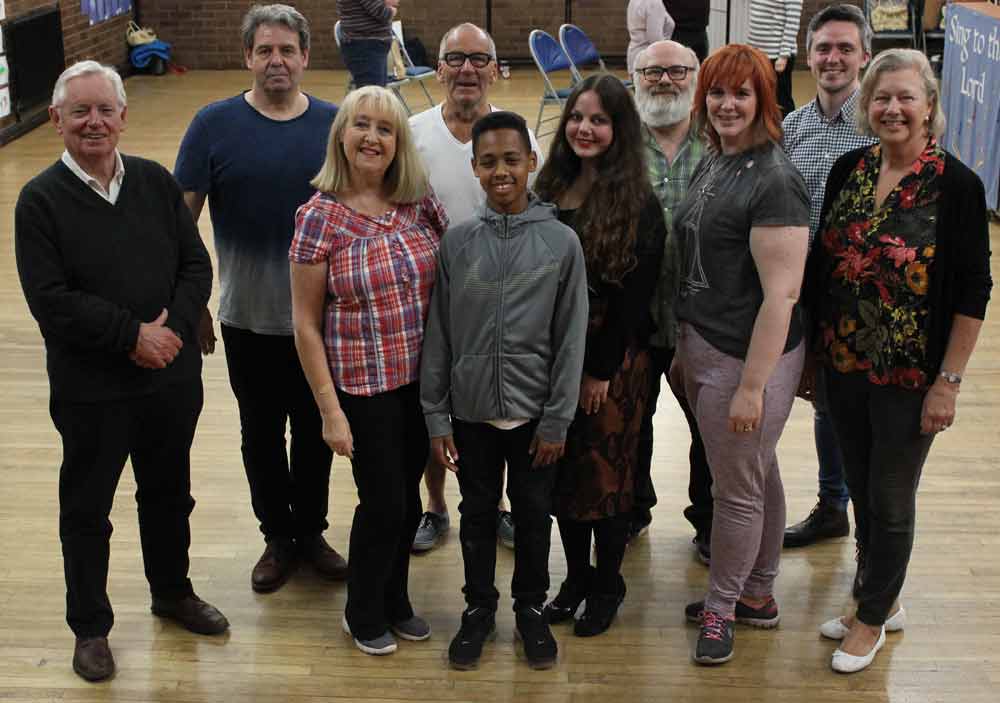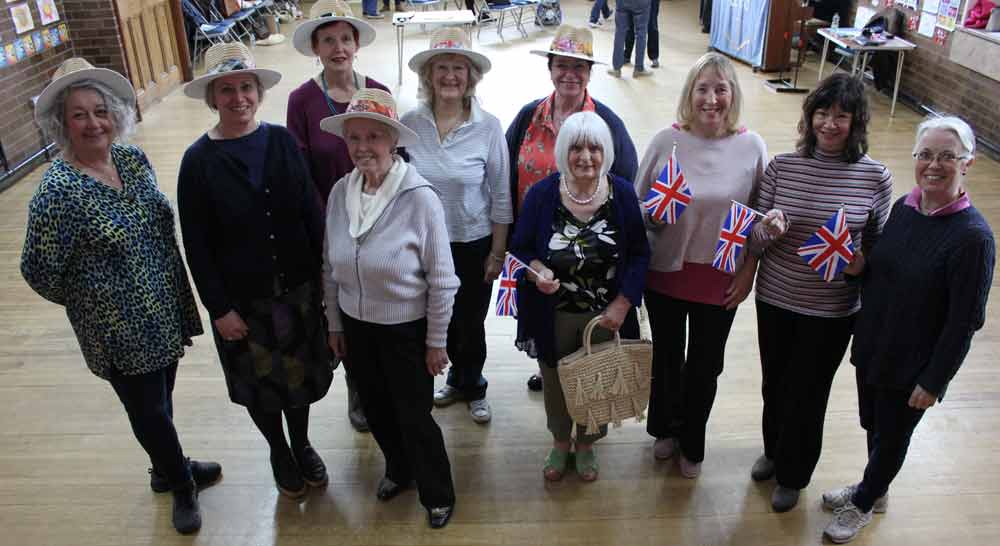 Daughters and sisters and cousins and aunts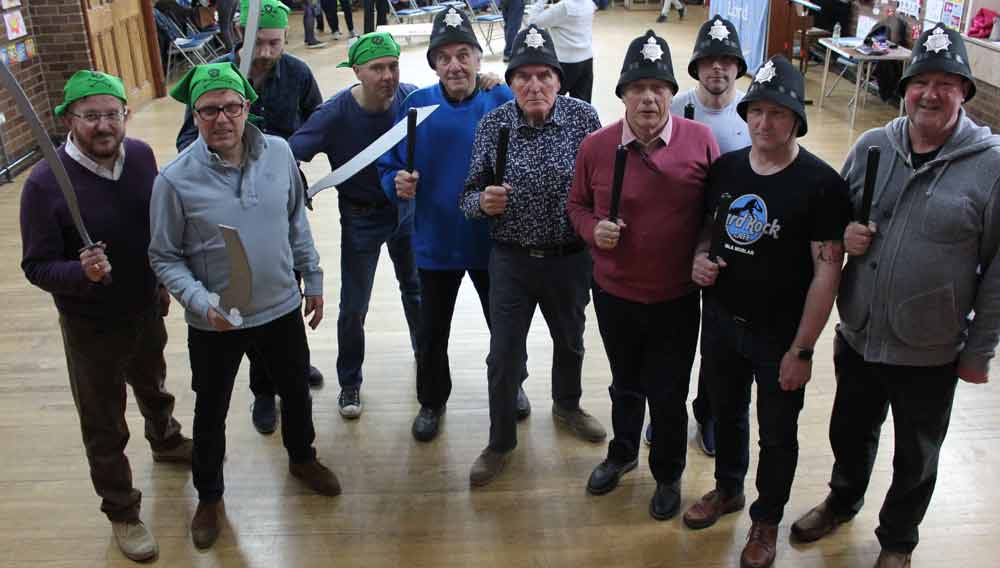 ACT ONE
'When Frederick was a little lad' / 'I am a Pirate King'
'Climbing over rocky mountains'
Entry of Pirates into 'A Modern Major General'
ACT TWO
"Oh dry the glistening eye" into "When a foeman bares his steel"
"A Paradox" into "A Policeman's Lot"
"With cat-like tread" into "Sighing gently to the river"
Finale - Part two - including verse 2 of 'Hail Poetry'
---
Promotional / Press Coverage / Videos Pirates 2019
Promotional Leaflets - click to enlarge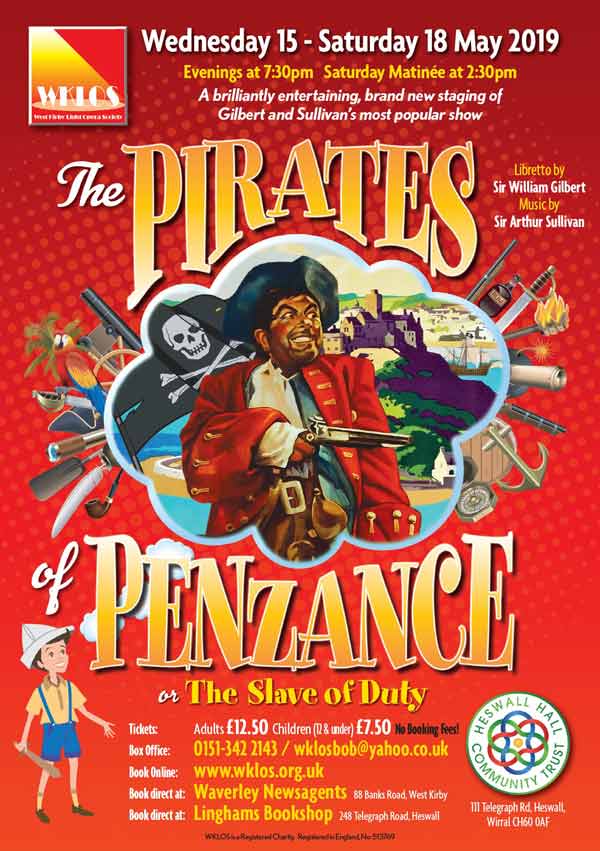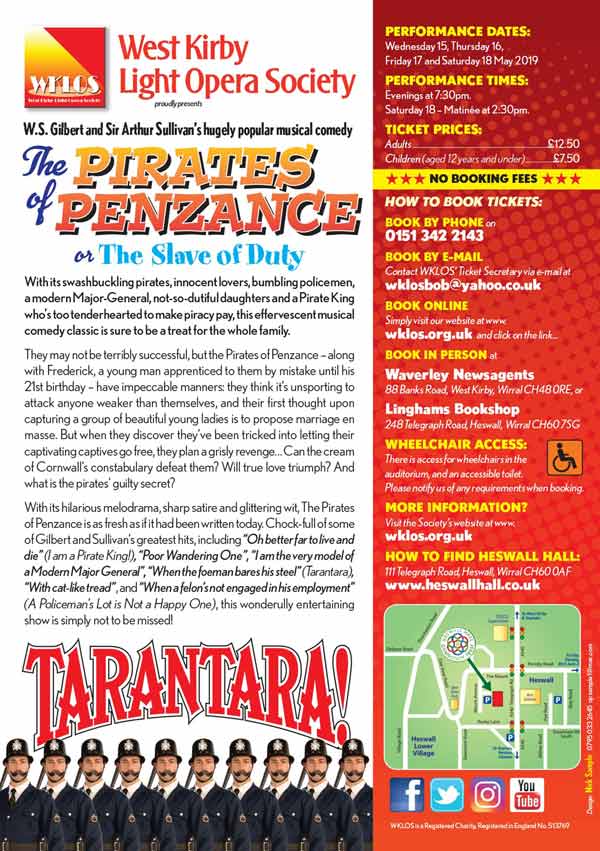 Heswall and district Magazine - click to enlarge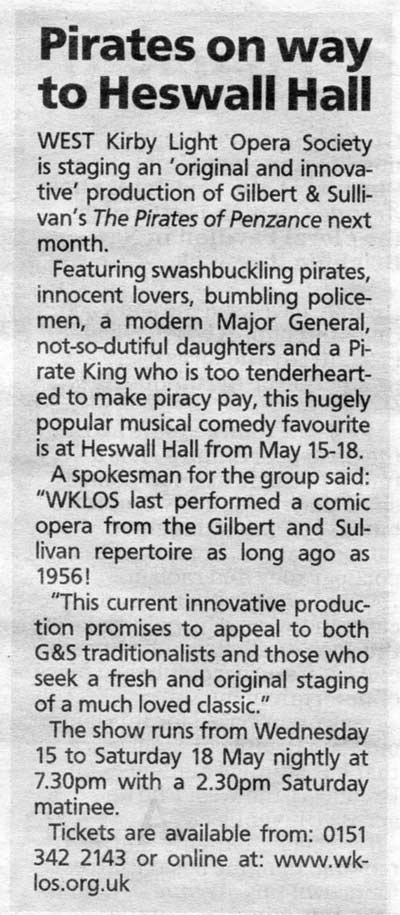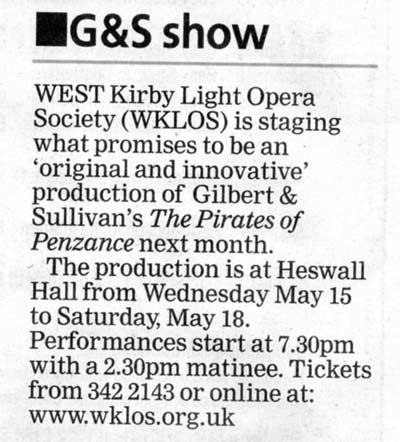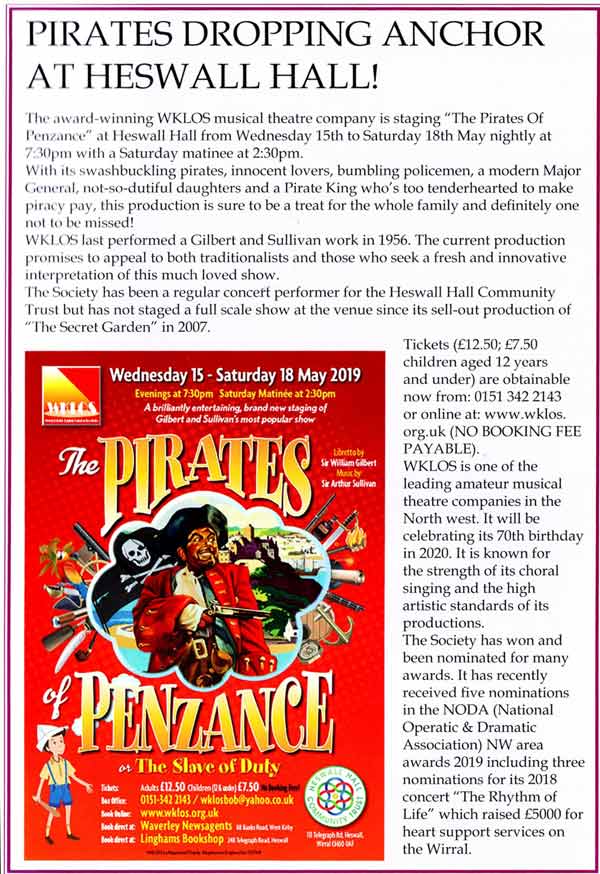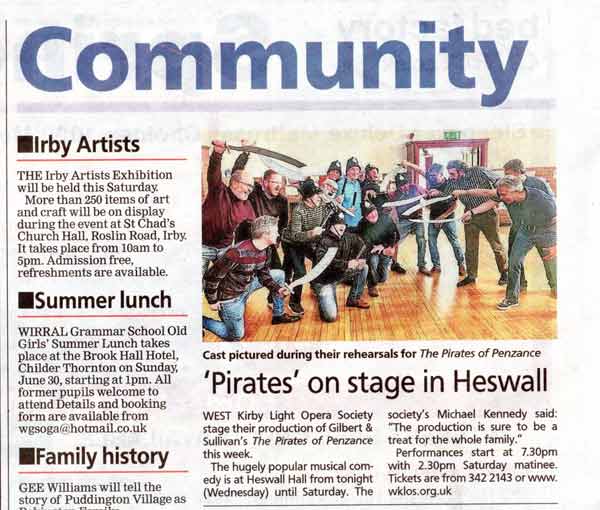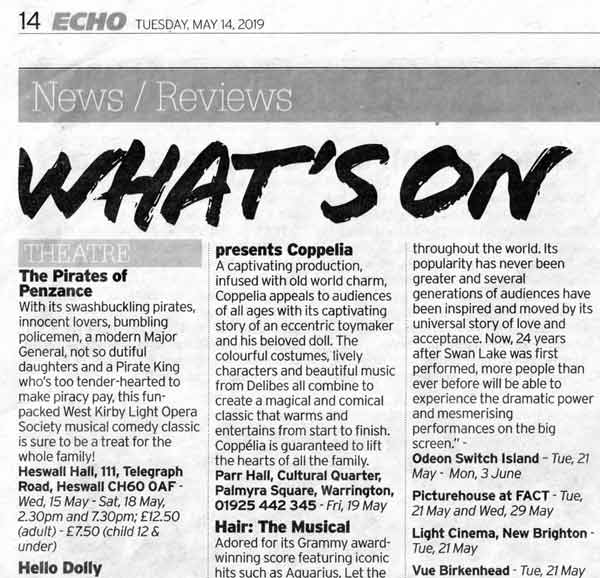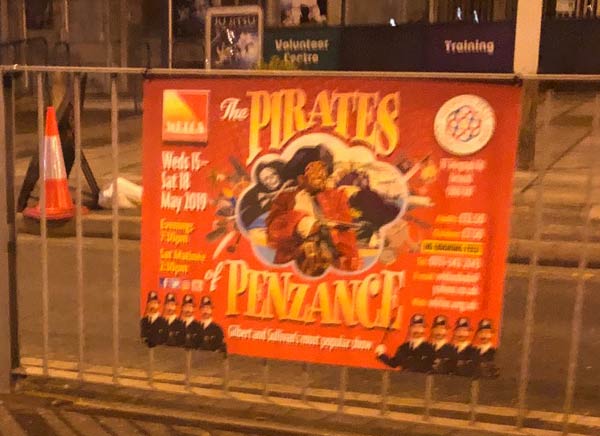 PREVIEW: West Kirby Light Opera are bringing 'Pirates' to Heswall
By Craig Manning Chief Reporter

WEST Kirby Light Opera Society stage their production of Gilbert & Sullivan's The Pirates of Penzance next week. Featuring swashbuckling pirates, innocent lovers, bumbling policemen, a modern Major General, not-so-dutiful daughters and a Pirate King who's too tenderhearted to make piracy pay, the hugely popular musical comedy favourite will be staged at Heswall Hall next Wednesday to Saturday (May 15-18).
The society's Michael Kennedy said: "The production is sure to be a treat for the whole family. "WKLOS last performed a comic opera from the Gilbert and Sullivan repertoire as long ago as 1956!"This current innovative production promises to appeal to both G & S traditionalists and those who seek a fresh and original staging of a much loved classic.
"The Society has been a regular concert performer at Heswall Hall but has not staged a full scale production at this popular venue since its sell-out production of 'The Secret Garden' in 2007. It is very much looking forward to making a welcome return."
Performances start at 7.30pm with a 2.30pm Saturday matinee.
Tickets: £12.50, £7.50 (children aged 12 years and under) are from: 0151 342 2143 or online at: www.wklos.org.uk
WKLOS is due to celebrate its 70th birthday next year. The society has won and been nominated for many awards over the years. It has recently received five nominations in the National Operatic & Dramatic Association NW (NODA) regional awards 2019 including three nominations for its 2018 concert The Rhythm of Life which helped raise £5000 for local heart support services on Wirral.
NODA REVIEW "The Pirates of Penzance" - WKLOS Heswall Hall. 18/05/19
To anyone who says that Gilbert and Sullivan has lost much of its appeal in today's theatre I would have told them to go and see the show that I witnessed last Saturday. I have seen "Pirates" several times and each has been stamped with the particular societies' interpretation. WKLOS chose to put great emphasis on the humour and a wise choice it proved to be. Rob Bowness showed his skills as both Director and Musical Director and coupled with Choreographer Deborah Clark's expertise brought his audience an entertaining evening's performance. In adding an extra element into the story as well we saw a unique production and splendid it was.
Wendy Newton's appearance as Ruth was not only very funny but delightfully different from previous interpretations that I have seen and her singing enabled her to get the absolute most from the role. Nick Hawkswell the Pirate Apprentice and "Slave of Duty" took full charge of his part, sang well and caught the full flavour of the character. Bluebeard himself could not have made a finer Pirate King, well supported as he was by Samuel (Dave Hayward) his erstwhile lieutenant and his trusty crew.
The romantic element fell to Major General Stanley's daughters - Amy Duggan, Barbara Richards, Sue Jarvis and Sophie Cottrell led this bevy of beauties who soon had the Pirates all at sea. Their Father the Major General played by John Phipps was excellent especially "As the very Model of a Modern General" surely the epitome of patter songs.
As the young Frederick Teo Bathily did very well especially as he was on-stage a great deal of the time. He proved himself to be very disciplined in the role, not easy for one so young. A policeman's lot may not be happy one but this fine body of men proved to be gallant upholders of the law no doubt inspired by their Sergeant of Police Tony Clare whose fearsome actions and facial expressions might well have frightened any felon he encountered.
WKLOS have proved themselves to have an excellent ensemble in concert as well as in Main Musicals and "Pirates" certainly added to their reputation.The "set" was, to say the least, simple but also most effective. The use of a Wardrobe as an Entrance/Exit was unusual but didn't it work well.
All in all first class show. Budge Grounsell NODA Rep.