Company 2016
<![if !supportEmptyParas]>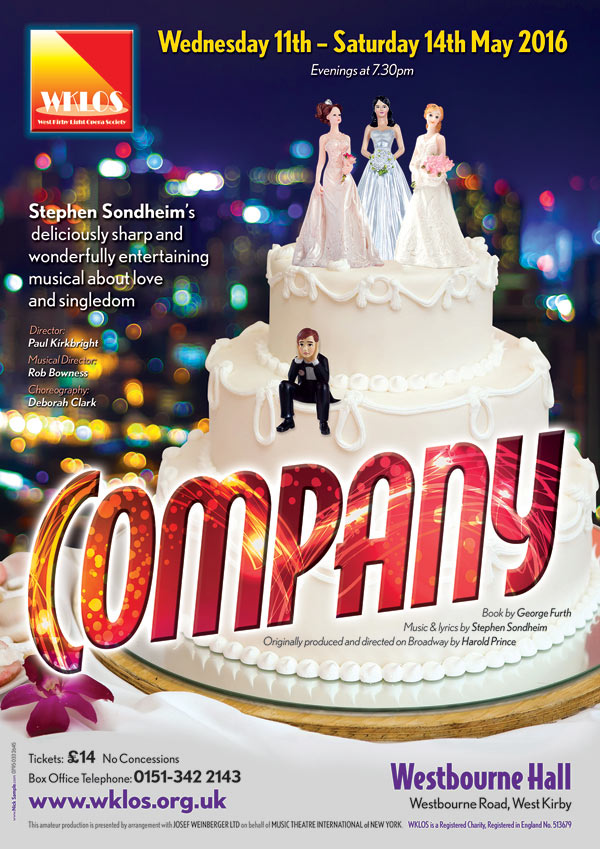 <![if !supportLineBreakNewLine]>
---
General Information
Company 2016
Dates
Wednesday 11th May 2016 - Saturday 14th May 2016
Evenings at 7.30pm

Venue

Westbourne Hall, West Kirby
<![if !supportEmptyParas]> <![endif]>
Director
Paul Kirkbright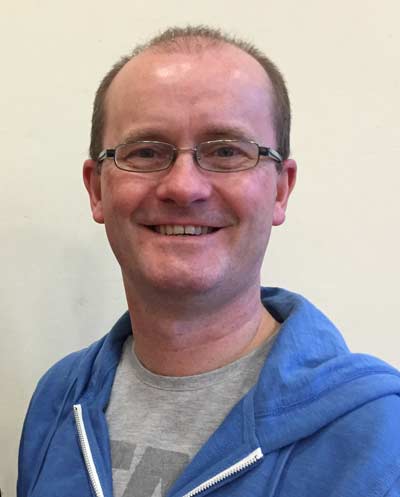 <![endif]>
Musical Director
Robert Bowness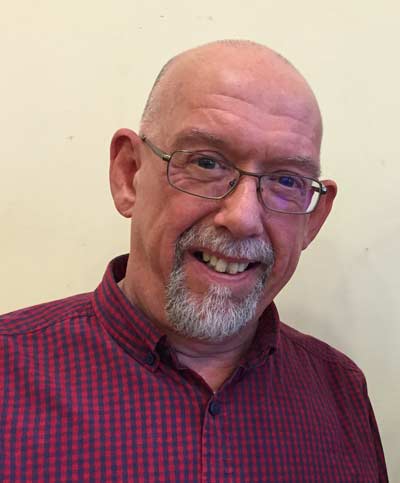 <![if !supportEmptyParas]> <![endif]>
Choreographer
Deborah Clark<![if !supportEmptyParas]>
<![endif]>Examiner FBBO. Deviser of the British Ballet Organisation
Tap Syllabus. Teacher: Ballet, Tap, Jazz, Modern.<![if !supportEmptyParas]> <![endif]>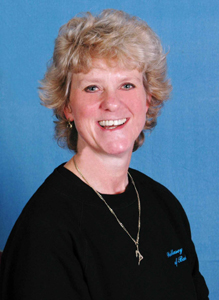 | | |
| --- | --- |
| Music and Lyrics | Stephen Sondheim |
---
Full Company - click to enlarge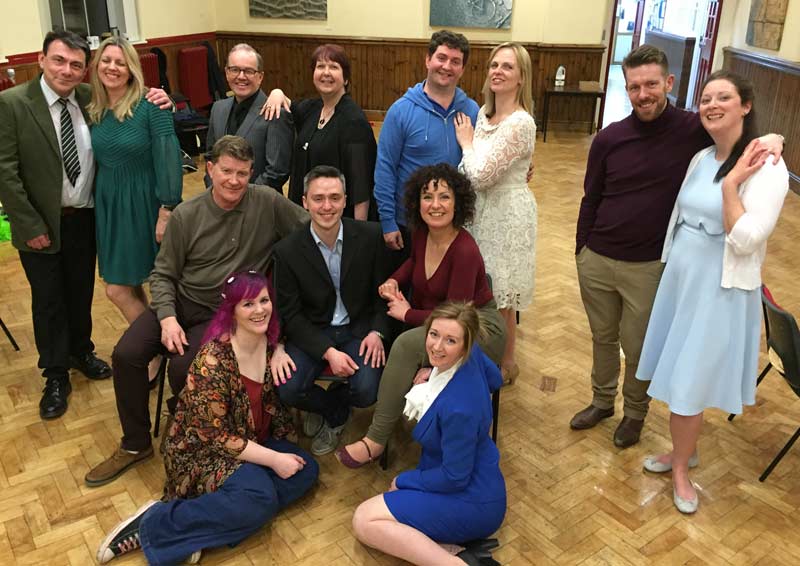 <![if !supportEmptyParas]> <![endif]>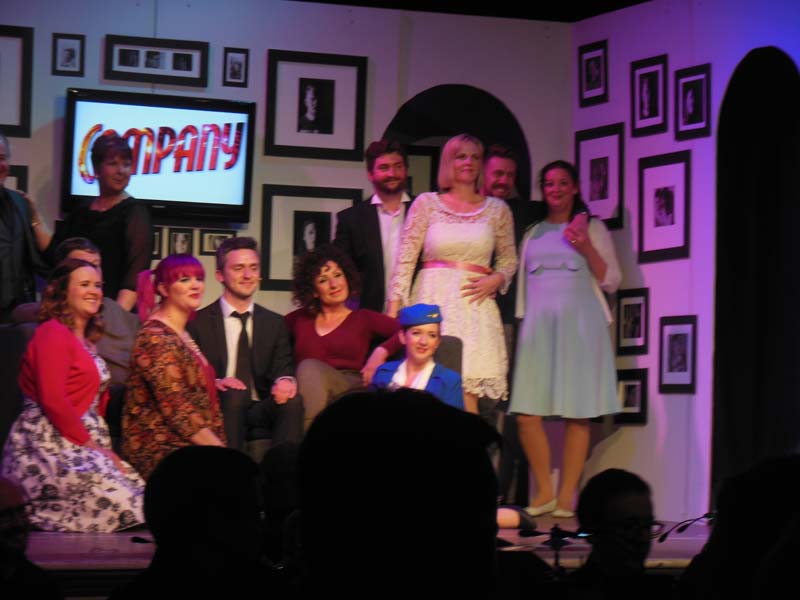 ---
Production
Team
Company 2016
| | |
| --- | --- |
| Production Manager | Dave Molley |
| Stage Manager | Richie Lee |
| Assistant Director | Beth Kirkbright |
| Lighting and A/V | Derek Boseley |
| Sound | Dave Molley |
| Microphone Dresser | Kerry Willers |
| Costumes | Tia Gill |
| Rehearsal Pianist | Victoria Wells |
| Properties | Carloyn Garland |
| Scenery | Neston Players |
| Front of House/Tickets | |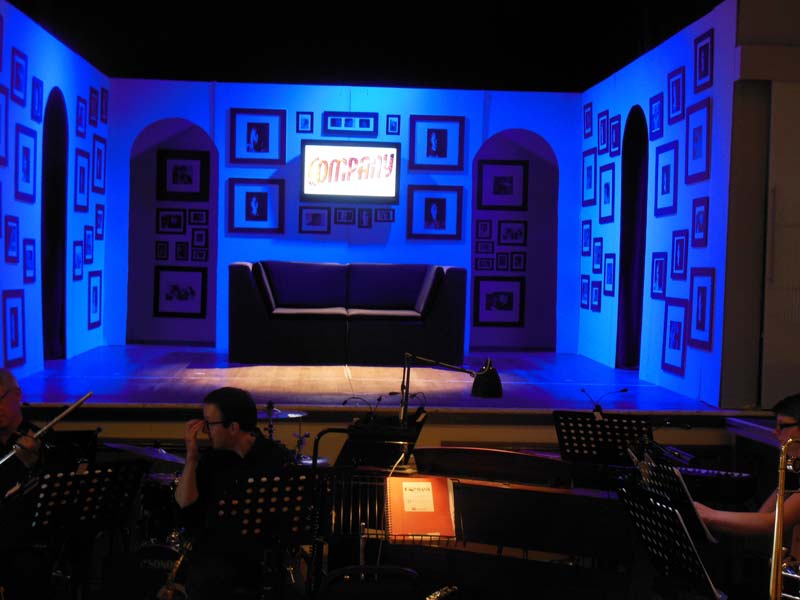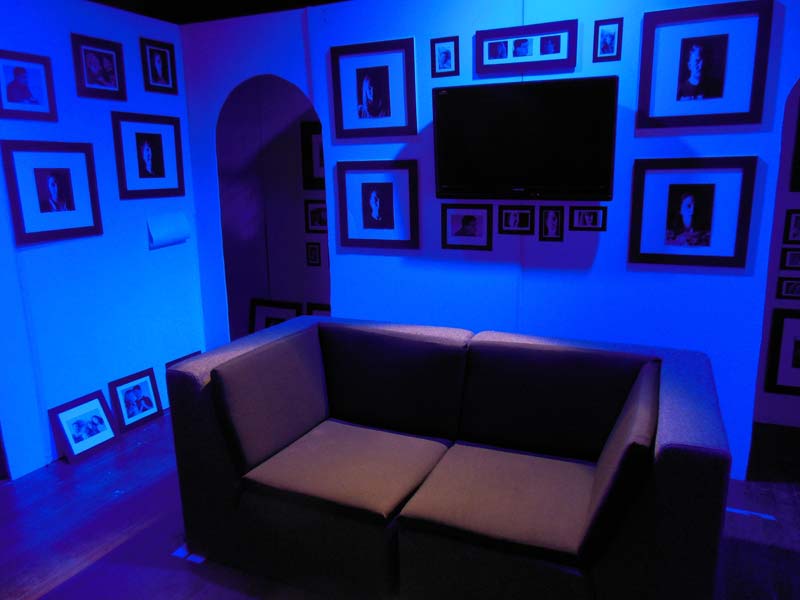 <![if !supportEmptyParas]> <![endif]>The <![if !supportEmptyParas]> Band<![endif]>
| | |
| --- | --- |
| Clarinet/Alto Sax/ Flute/Alto flute | Phil Shotton |
| Clarinet/ Tenor Sax | Sarah Queen |
| Clarinet/Bass Clarinet | Tom Evans |
| Trumpet | Julie Baker |
| Trombones | John Davies |
| Keyboard | Victoria Wells |
| Keyboard | Andrew Barney |
| Bass | Tim Pike |
| Drums, Percussion | Tony Jennings |
Many thanks to Jonny Clayton for his invaluable help
---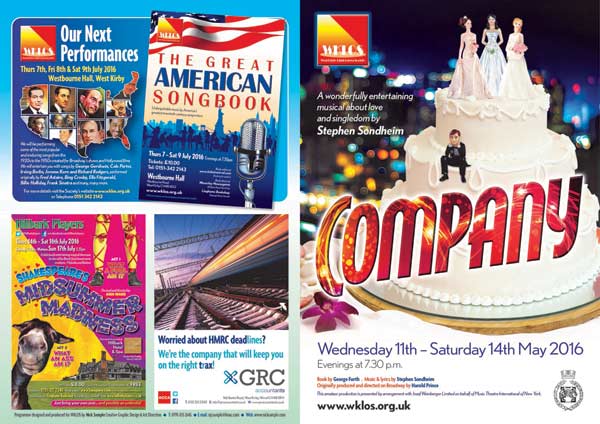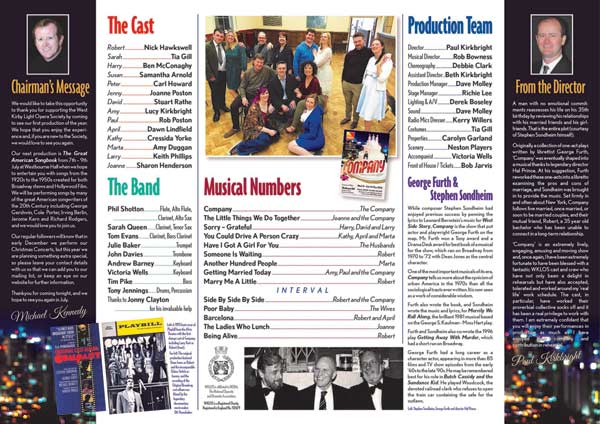 ---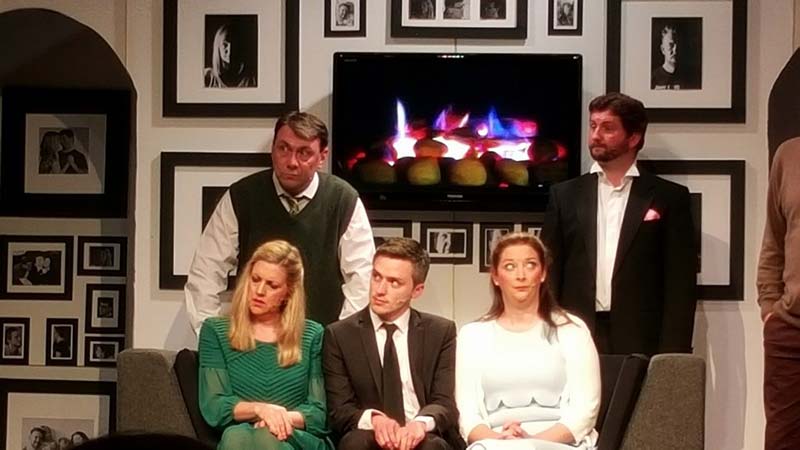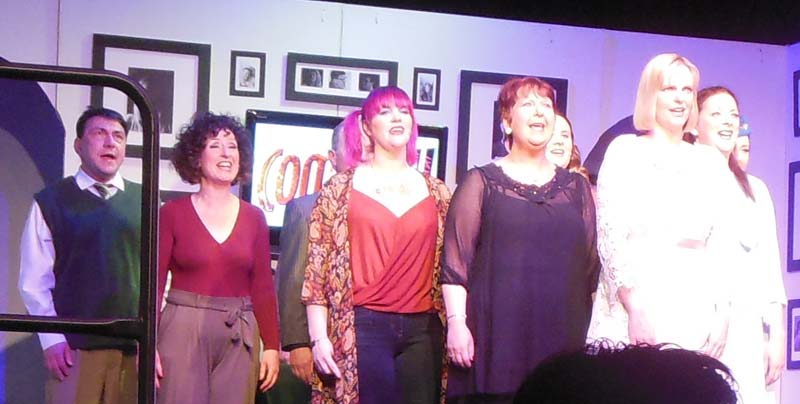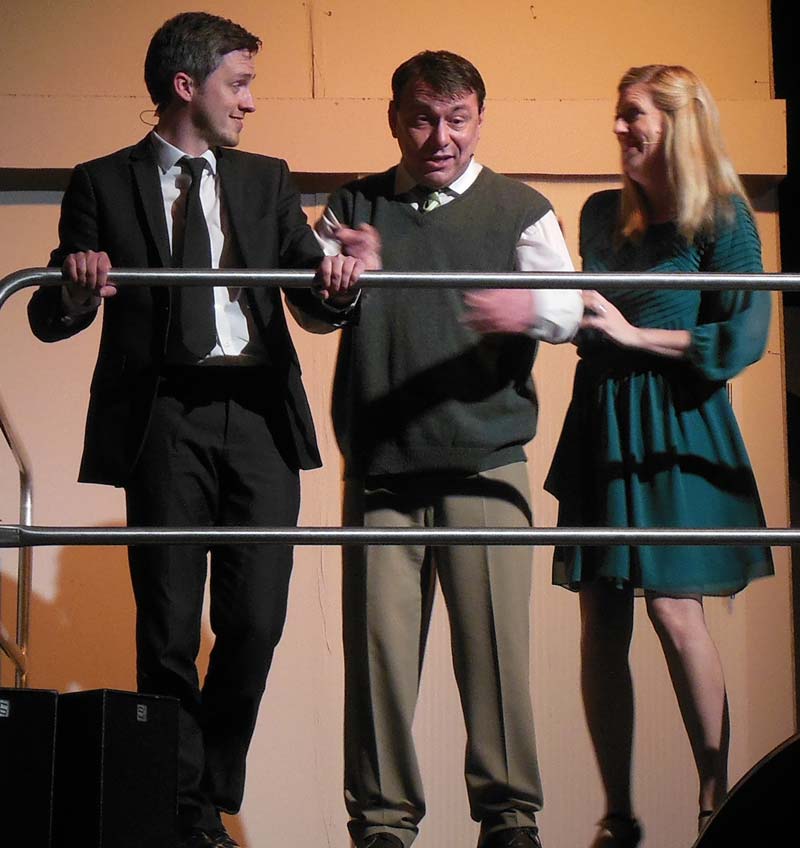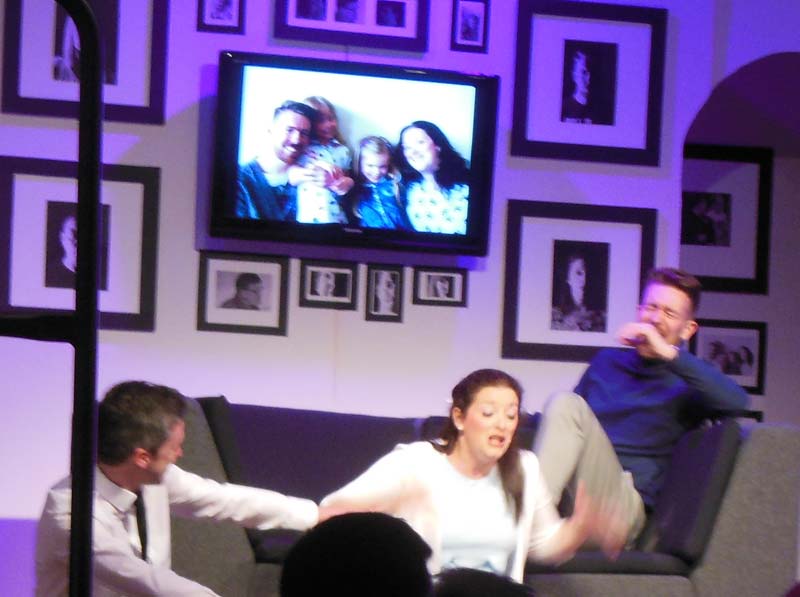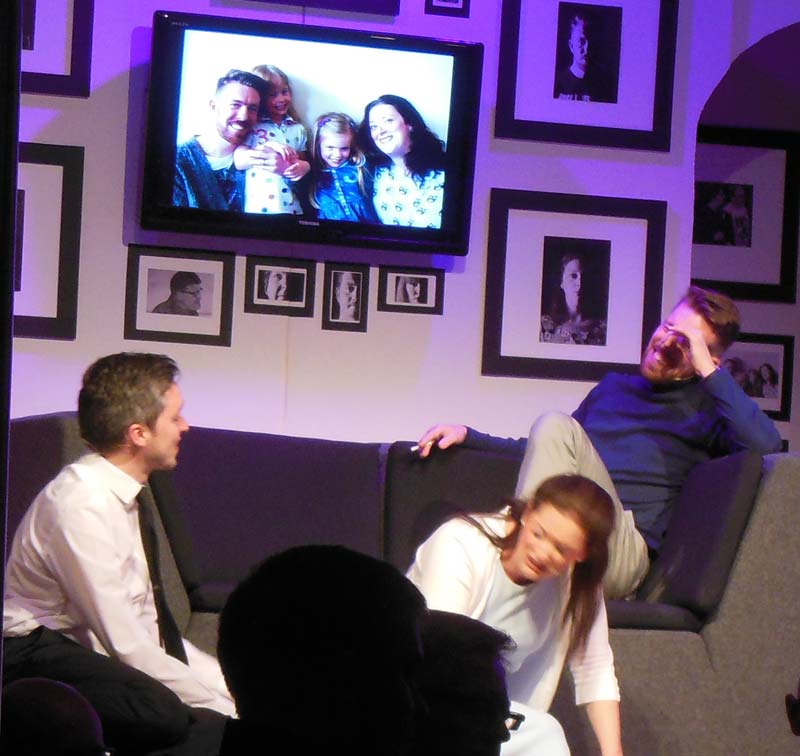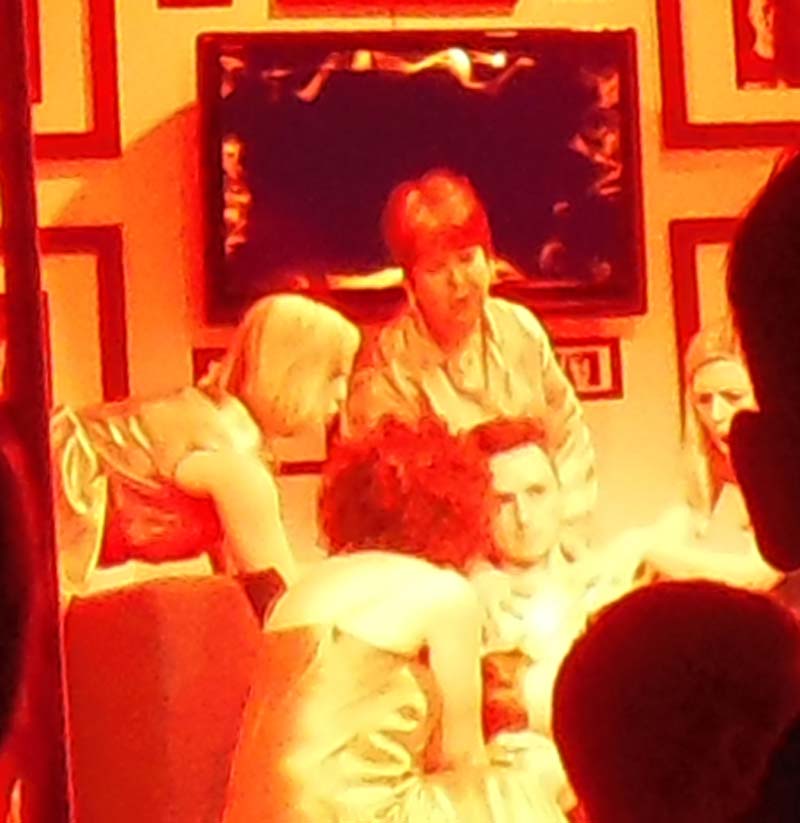 Promotional black and white stills
---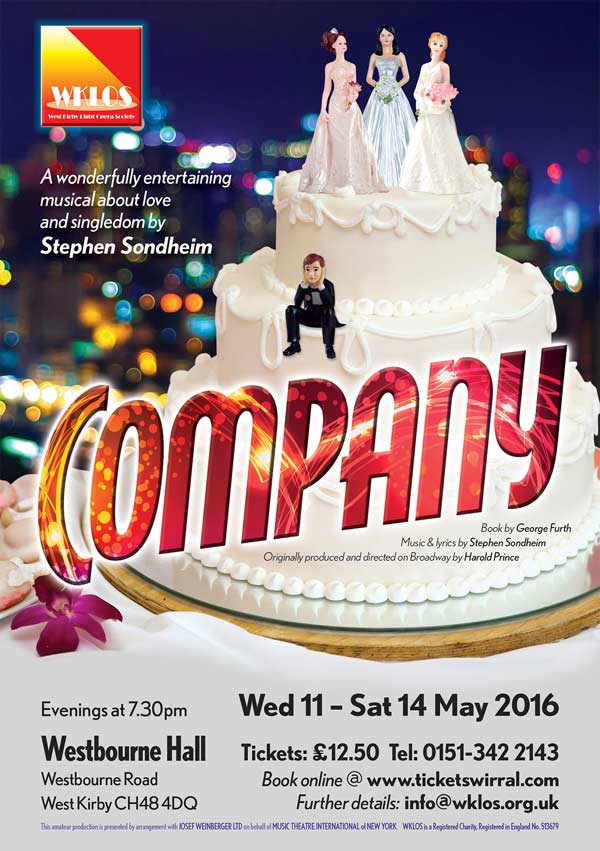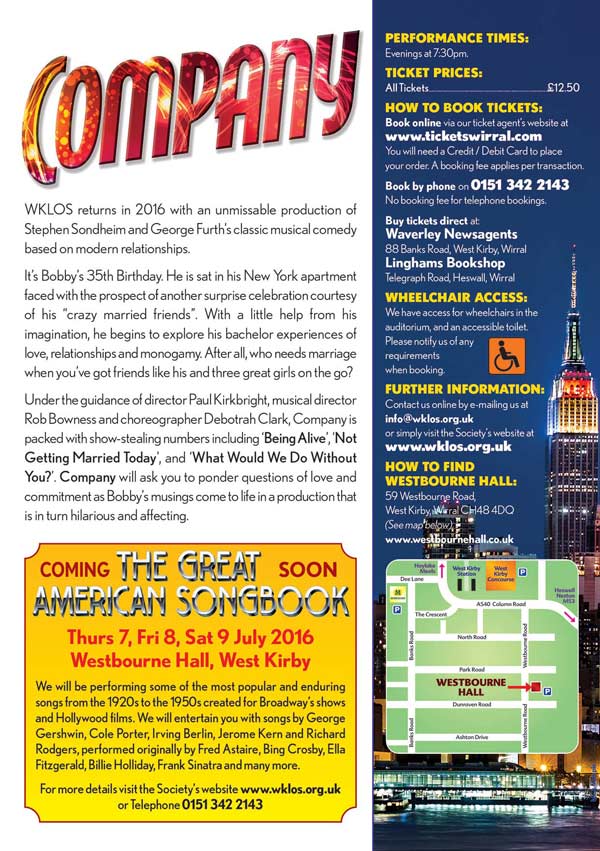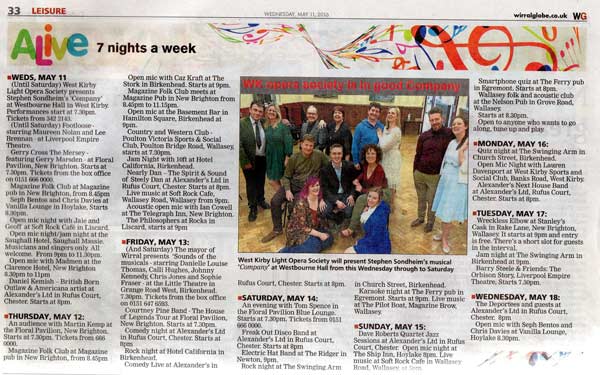 NODA Review
NODA review - Company
It's been some time since WKLOS favoured us with a "proper" musical but it was well worth waiting for. If you went looking for an Oklahoma, Oliver, South Pacific style show then you might well have been disappointed and it's unlikely that you would have left the venue humming the tunes you had just heard. However you would have left glowing from seeing an evening of first class entertainment.
Company is a concept musical composed of short vignettes, presented in no particular chronological order, linked by a celebration for Bobby's (The main character) 35th birthday. It was among the first musicals to deal with adult themes and relationships. As Sondheim puts it, "Broadway theatre has been for many years supported by upper-middle-class people with upper-middle-class problems. These people really want to escape that world when they go to the theatre, and then here we are with Company talking about how we're going to bring it right back in their faces."
I have seen this show before but this production was so far removed from the one I had previously seen as to make me wonder if I had wandered into the wrong theatre. Brilliantly directed by Paul Kirkbright, "aided" by his daughter Beth, he managed through his talented cast not only to capture all the humour, some of it black, which abounded throughout the script but also the sadness which often accompanies long standing relationships. Rob Bowness the Musical Director provided us as usual with great skill in the singing from the cast and his handling of the "band".
If there was a weakness in the casting I could not see it and each of them gave their character that little spark of difference which made their individuality stand out. I'm not listing their names there is no first among equals. However, I would like to make an exception in the case of Nick Hawkswell who played Robert; his role demanded that he was on stage for practically the whole time and as this was his first leading role it was an amazing performance. There were of course some magic moments. The Karate scene, the Manic bride, Ladies who Lunch, the Strip and Side By Side By Side; the latter splendidly choreographed by Debbie Clark and amazingly sung and danced by the cast in a very limited space.

In respect of the space the scenery/set was very clever indeed. No fewer than six entrances/exits enabled the cast not only to move freely but created an environment ideally suited to the action of the piece. The Scenery contribution came from Neston Players and I'm not surprised that it fitted the bill so well. Obviously WKLOS are blessed with a strong backstage team which enhances what you see on stage. I hope we will not have to wait a long time before they stage a major show again.
---
Promotional videos Company 2016

'Behind the scenes' promotional video Thanks to Greg Jones
'You could drive a person crazy' - in rehearsal-1
'You could drive a person crazy' - in rehearsal-2
"What would we do without you?"